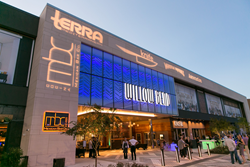 "We at Starwood Retail had a vision for Willow Bend, and knew it was the perfect location to bring these chef-driven restaurants," said Jeff Zeigler, COO of Starwood Retail at the ceremony.
After years of planning and months of anticipation, The District, the chef-driven dining area at 
The Shops at Willow Bend,
 in Plano, Texas, began serving hungry guests the weekend of October 12. Restaurants commenced operations just one week after a sneak preview gala fundraiser that previewed all of the new options that will open throughout October.
Whistle Britches is open for lunch and dinner, while Mexican Bar Company has begun dinner service. Lunch service will begin on October 31. Knife will open for dinner on Friday, October 26, with Terra Mediterranean to begin serving customers later this month. The much-anticipated District is the latest step in the $125 million reinvention of The Shops at Willow Bend into a multi-use urban core, joining the grand opening of Crayola Experience at the project earlier this year and the 2017 debut of Plano Children's Theater.
"We at Starwood had a vision for Willow Bend, and knew it was the perfect location to bring these chef-driven restaurants, plus additions like an Equinox fitness center, an upscale movie theatre, a Class-A Office building, Ascension Annex, Acai and Alchemy and more, all of which will be complete by next year," said Jeff Zeigler, COO of Starwood Retail at the ceremony. "However, this evening is not only a celebration of The District, but an opportunity to recognize and give back to an outstanding local organization, The Junior League of Collin County."
"Plano is a city on the go – we move quickly, but we also like to slow down and appreciate a delicious meal with friends and family. These restaurants represent some of the best food you can get in North Texas," said Plano Mayor Harry LaRosiliere at the gala.
The ticketed fundraiser on October 5th raised more than $25,000 for the Junior League of Collin County. The festive cocktail reception featured musical performances by the Georgia Bridgewater Orchestra, appetizers from California Pizza Kitchen and bites from Knife, a steakhouse from James Beard-nominated chef and two-time Top Chef contestant John Tesar; Mexican Bar Co. Cocina from James Beard-featured chef Patricio Sandoval; Terra Mediterranean, from brothers Jalal Chanaa and Adam Shanaa; and Whistle Britches, offering southern comfort food from James Beard Foundation-nominated Chef Omar Flores. The evening concluded with Australian-style coffee from Ascension Annex and desserts from Neiman Marcus Mariposa.
The event kicked off more than a month of activities celebrating The District. Shoppers presenting $300 in same-day receipts receive a $50 dining gift card to their choice of the restaurants. More focus on fine dining followed on Saturday, October 6 as The Shops at Willow Bend hosted the Plano Wine & Food Festival, which featured wine tastings, food, and live music.
The District was built on the site of a long-shuttered department store anchor. When Starwood Retail Partners' parent Starwood Capital Group acquired in 2014, the management company began assessing the best use for the property and determined that expanding dining and entertainment options would best serve the growing Plano community.
"We're excited for Plano, whose residents and visitors have long deserved more varied and unique dining options," said Bryant Siragusa, vice president, national restaurant and entertainment leasing. "We're proud to give this flourishing market this collection of convenient fine dining."
The reimagining is the first renovation and expansion of The Shops at Willow Bend since its 2001 opening. Now under construction is an Equinox fitness center, offering branded programs such as strength and cardio training, studio classes, personal training, spa services and products, apparel, and food and juice bars. A Class A office building also is planned. Other highlights include a welcoming new grand entrance facing the Dallas North Tollway with valet drop-off and pickup; exterior amenities including dramatically enhanced lighting, fountains, comfortable soft seating and fire pits; and a full interior remodel that reflects a more contemporary aesthetic.
About Starwood Retail Partners 
Owned by Starwood Capital Group, Starwood Retail Partners is the fifth-largest manager of regional malls in the United States, with 30 malls and lifestyle centers in 16 states across the country. Since its founding in 2012, the team has focused on redeveloping, managing, leasing and operating the next generation of shopping centers focusing on a new generation of shoppers and an increasingly interconnected consumer.
SRP partners with its retailers, nontraditional tenants and its customers while investing in innovative technologies that help these properties to become more productive, with more exciting stores and engaged consumers. http://www.starwoodretail.com