'Neath the Wreath Going Virtual
Originally published by Celina Record | Oct. 11, 2020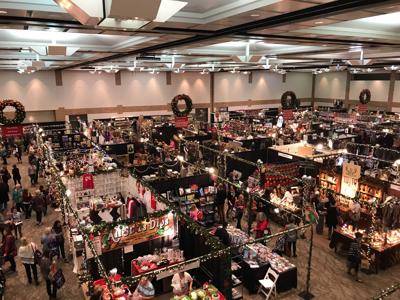 As with many events in 2020, the Junior League of Collin County (JLCC) is bringing the cherished tradition of the 'Neath the Wreath Holiday Gift Market to the community virtually.
This year's theme invites shoppers to celebrate 'Home for the Holidays,' where they can enjoy the tradition of shopping their favorite merchants online from the comfort of their couch. The virtual event will be held Nov. 12-15 with additional details available at neaththewreath.org.
"Over the last 25 years, Junior League of Collin County members have generously given their time and resources to this beloved fundraiser. Our committee is creating various opportunities to support the merchants and mission of the Junior League of Collin County. It is our intention to be back in 2021 to celebrate the 25th anniversary and bring our 'Neath the Wreath family together again," stated Amanda Konersmann, 2020-21 president of Junior League of Collin County.
This year is more critical than ever to support the community initiatives of JLCC. With a rise in domestic violence, food insecurity and unemployment, Collin County social services are at an all-time high demand.  JLCC continues to be active in uplifting the organizations that are supporting those vulnerable in the community. With limited opportunities to work side-by-side as volunteers, financial support and donations are crucial to sustain the level of support needed.
By participating in the online 'Neath the Wreath Holiday Gift Market, you can play an active role in supporting these community initiatives.
Shoppers can find everything they need at neaththewreath.org and through the expanded mobile app, available in the Apple store and Google Play.
Here are some socially distanced ways to support the JLCC 'Neath the Wreath from the comfort of your home:
While there is no admission to enter the virtual 'Neath the Wreath Holiday Gift Market, consider a donate in lieu of a ticket to directly to support the projects and initiatives of JLCC at neaththewreath.org
Shop our merchants on the neaththewreath.org and mobile app. Merchant list will be available mid-October.
Purchase raffle tickets to win signature items. Raffle tickets go on sale Oct. 10 at 10 a.m.
Participate in the online silent auction on Nov. 14.
Show your support on social media by following and sharing updates with your friends, posting pictures of shopping and your favorite items found at 'Neath the Wreath over the years. Use #neaththewreath, #jlccntw, and #jlcollincounty.
Sign up for the 'Neath the Wreath e-newsletter at neaththewreath.org to receive insider tips and updates.